Activision selects Ghostex Camouflage for "Call of Duty®: Black Ops 2"
---
November 13, 2012 (Vancouver, B.C.) Hyperstealth Biotechnology Corp. a world leader in camouflage design and development with over two million military issued uniforms using their patterns, announces that Activision Publishing, Inc., has selected Hyperstealth/ADS Inc. Ghostex camouflage patterns for use in "Call of Duty®: Black Ops II."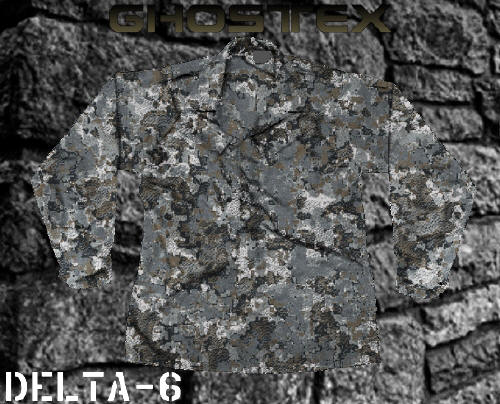 Ghostex patterns have been available to U.S. Military Black Ops teams in the USA since 2010; Including the Ghostex Delta-6 pattern (image shown).
The same Ghostex Delta-6 pattern within the blockbuster game developed by award-winning studio Treyarch, is used as a camouflage for the weapons and available with a number of other camouflage pattern options or patterns which can be unlocked through gameplay.
Call of Duty: Black Ops II will be available on November 13th on the Xbox 360 video game and entertainment system from Microsoft, PlayStation®3 computer entertainment system, and Windows PC. The title is also expected to be released in North America on November 18, 2012, for the new Wii U™ game system from Nintendo. The game is rated "M" by the ESRB. More information on Call of Duty: Black Ops II can be found at http://www.callofduty.com/blackops2 or on www.facebook.com/codblackops.
For more information on Ghostex uniforms see below or go to the official Ghostex site. www.ghostex.com.
ACTIVISION, CALL OF DUTY, and CALL OF DUTY BLACK OPS are trademarks of Activision Publishing, Inc. All other trademarks and trade names are the properties of their respective owners.
For more Camouflage news go to the HyperStealth® Home Page
Ghostex Delta-6 is copyrighted © 2010 by Hyperstealth, All Rights Reserved. Pattern may only be used only with permission.
HyperStealth is a Registered Trademark of HyperStealth Biotechnology Corp.
ADS is a Registered Trademark of ADS Inc.
"Ghostex" and "Ghostex Tactical Deception" are Trademarks of HyperStealth Biotechnology Corp.