HyperStealth sponsored Erin Beckett makes Canadian team for the International Sport Shooting Federation World Cup in June 2011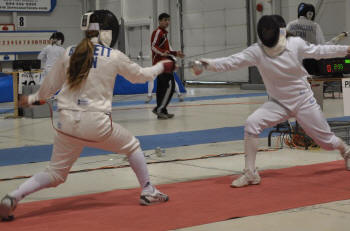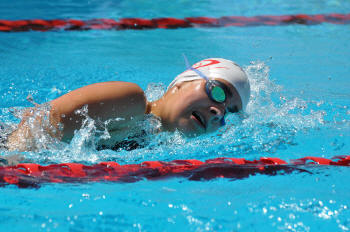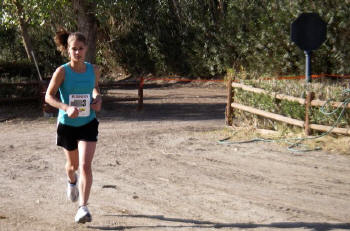 Erin Beckett in the Five Events of the modern Pentathlon: Pistol Shooting, Epee Fencing, Freestyle Swimming, Show Jumping and Cross Country Running
(Vancouver, B.C., April 18, 2011) Maple Ridge athlete Erin Beckett (sponsored by Hyperstealth Biotechnology Corp.) will represent Canada at the International Sport Shooting Federation, (ISSF), world cup event in Munich this June attempting to secure a spot on the Canadian Olympic Team for London in 2012.
Beckett is the youngest Canadian National Air Pistol Team shooter at age 17 to represent Canada at the ISSF. In a recent competition last month Erin scored 1,116 points out of a possible 1,200 points (only 14 points behind the winner from the National Team).
Erin Beckett is strong competitor in all five events of the modern Pentathlon: Pistol shooting, freestyle swimming, show jumping, epee fencing and cross country running.
Erin has been training with the Hyperstealth Passive Negative Ion Generator for the past 2 years. Over 5,000 studies on Air Ions have shown Negative Ions to be beneficial, whereas Positive Ions have the opposite effect and are typically detrimental to human and animal performance and health.
The Olympic Committee knows about negative ion training, and has never objected to it, primarily because there are no known side effects and its considered natural, If you trained within 1/2 a mile of Niagara Falls you would be training in high levels of negative ions. Negative ion generators simulate this effect.
Plug-in (or Active) Negative Ion Generators have been available for over 60 years, the unique feature of this patented Passive Negative Ion Generator device is that it does not require a power source.
The HyperStealth device is embedded within the brim of the cap Erin wears when training.
Active (powered) Negative Ion Generators have been used by the U.S. Navy on all nuclear submarines since the late 1950's.
Health Canada has approved the HyperStealth "Passive Negative Ion Generator" device for increasing alertness and one branch of U.S. Special Forces began using the HyperStealth device in 2001 which has been adapted to their combat gear for performance enhancement without the side effects often associated with drugs or dietary supplements usually required for covert operations. The Patent was issued to HyperStealth's President/CEO Guy Cramer and licensed to HyperStealth in January 2004.
The material emits negative ions into the surrounding air and if close enough to the face, those emitted negative ions are inhaled. Numerous studies on air ions conclude that a higher proportions of negative ions in the air have shown improved alertness and brainwave activity.
Canadian Foreign Affairs has approved export of the HyperStealth Passive Negative Ion Generator device to civilian and military of all but a few countries on the currently under export deny orders.
The previous version of the Passive Negative Ion Generator came in small strip form, this new version is embedded in the underside brim of caps and hats. The negative ion emission material only weighs 25 grams (1 ounce). However, the material is manufactured in small spherical pellets so actual surface area of the material embedded in the cap is equivalent to approximately 8 square meters (26 square feet). Expected lifespan is 5 years.
---
A large Russian study conducted over a few weeks showed at the end of the testing that the group breathing more negative ions during exercise revealed a decline in expenditure of energy by 15%, meaning 15% less energy was required to do the same task as the control group. Quicker recovery time was also noted when compared to the control group. Whereas the group exposed to more positive ions had to expend 25% more energy than the control group and took longest to recover. A 40% difference in energy expenditure between the negative ion exposed group and Positive ion exposed performance do the same task.
---
U.S. Air Force Negative Ion Air Exposure Study Summary:
"Subjective perceptions of psychological state, using individual 'normalcy' as standard, reflected significant differences between control and negative ion exposure groups.
Prominent perceptions reported were reductions in irritability, depression, and tenseness, and increases in calmness and stimulation associated with ion exposure.
For psychological state, negative ion exposure appeared associated with feeling better about self, less sensitive, and more responsive or innervated [energized]."
Subjective Response to Negative Air Ion Exposure. Journal of Aviation, Space, and Environmental Medicine, (53) August 1982 p.822-823 Author: Buckalew LW & Rizzuto A
---
Russian Ion-Athletics Study - Translated by U.S. Naval Intelligence
In static endurance the gymnast control group had a decreased endurance after 25 days while the negative ion group showed a 46% improvement. The track and field control group's static endurance improved 40% after 25 days while the negative ion track and field group improved by 192%.
In dynamic endurance the gymnasts had no control group but the negative ion gymnast showed an improvement of 87% over 25 days. In track and field the control group had a 24% improvement after 25 days while the negative ion group had a 240% improvement.
In reaction time the gymnast control group managed to shorten their response time by 11 milliseconds, while the gymnast negative ion group shortened theirs by 22 milliseconds. The track and field control reaction time shortened by 4.5% at the end of 25 days, while the track and field negative ion groups shortened by 16%.
The equilibrium results were 80-82% improvement after 25 days for the track and field control group, while the negative ion group improved by 145-333%.
One of the pertinent observations made after these studies was that the negative ion groups cheerfulness and vitality were increased notably, along with improvements in sleep and appetite. Studies showed that the negative ion groups also utilized vitamins B and C more effectively.
Studies done with male swimmers and boxers also showed no increase in muscle strength but negative ions dramatically improved endurance and quickness.
---
It is interesting to note that a recent study by Sharp Corporation concluded that their ion generators were quite effective against reducing 99% of the airborne Bird flu virus: Sharp Corporation Press Release: Ion Technology Proven Effective Against Airborne Highly Pathogenic H5N1 Avian Influenza
---
This page and information © Copyright 2011, Hyperstealth Biotechnology Corp., All Rights Reserved.