Jordan expands Armed Forces modernization as a force Multiplier
King Abdullah: We are dedicated to providing the Armed Forces with the most modern weaponry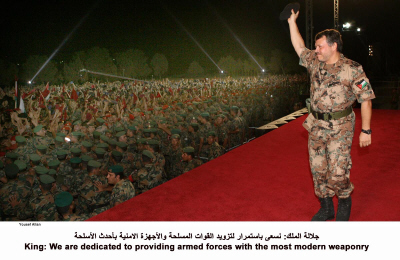 Amman, Oct. 3, 2007 (Petra)— His Majesty King Abdullah II said "in order that the Arab Army and the Jordanian Security Institutions remain, as they have always been, a model in competency and efficiency in executing their duties and shouldering their great responsibilities, we are dedicated to providing them with the most modern weaponry and to diversifying the sources they come from."

During meeting tens of thousands of the Armed Forces' personnel on Wednesday after the Iftar banquette which was hosted by the Arab Army at the Royal Military Collage in honor of the King, His Majesty unveiled comprehensive plans for modernizing and upgrading all military units in terms of arming, administration, and training.

King Abdullah announced that there are plans and project to enhance the living standards of families of the armed forces and security apparatuses, personnel, retired and martyrs, especially in the field of providing decent houses for them, pointing at the projects the Armed Forces will implement to combat the poverty and unemployment in all governorates.
"I am here today to see how you are, and to tell you how proud I am of each one of you, how honored I am to have served in this army and how proud I am of the many years that I lived with you, and among you, in every battalion, every camp and every field of the fields of honor and gallantry for which you stand as a symbol. You are always and forever a symbol of honor, bravery, sacrifice and belonging," King Abdullah said.

"I want you to be sure that you are always in my thoughts and conscience, and that I am keen to be with you and among you every day, and on every occasion. When I am not with you, I am always busy working for you and for your kin and brothers, the Jordanian people, who deserve whatever we can do for them, and that we complete the building process of this homeland and all that we own, for which we are ready to sacrifice our souls and blood," added the King.
Jordan M-60 Phoenix: Project Improvements include: True shoot-on-the-move capability, day/night target acquisition, and improved first round hit probability are achieved with Raytheon's Integrated Fire Control System (IFCS) upgrade. Replacement of the M60 105-mm rifled gun with RUAG land Systems L50 120-mm smooth-bore Compact Tank Gun (CTG). Improvements in M60 acceleration and cross-country capability are achieved with the mobility upgrade provided by L3 Communications. Survivability is improved through the addition of the armor protection scheme for both the M60's turret and hull. This project is being carried out by the King Abdullah II Design and Development Bureau (KADDB)
His Majesty said "as for you, comrades-in-arms, the chivalrous members of the Arab Army and the Security Institutions, you are the source of our pride. To you we convey our respect and appreciation; your excellent reputation around the world adds to our pride in you," adding " on this occasion, I want to salute with pride your brothers and colleagues in the United Nations Peacekeeping Forces, who raise Jordan's flag and bring honor to Jordan's name throughout the world; I wish them and the homeland many happy returns of the day."

His Majesty the King, accompanied by Their Royal Highness Princes Hussein Bin Abdullah, Faisal Bin Al Hussein, Ali Bin Al Hussein, Hamzah Bin Al Hussein, was received by the Chairman of the Joint Chiefs of Staff Gen. Khaled Jameel Sarayreh and his assistants as well as a number of the Armed Forces' officers.

//Petra// Ashkar

03/10/2007 22:12:28