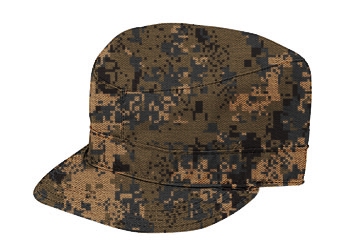 SPEC4CE
Series 2
Series 2 Sold Out as of April 3, 2009
December 6, 2007: Series 1 (which sold-out) has been completely shipped to all Customers
| | |
| --- | --- |
| | |
| Series 1 shipment (only a small portion shown) during sorting | Spec4ce Woodland Boonie Hat from Series 1 Shipment |
To see the SPEC4CE Information Page Go Here
As of February 19, 2009 Series 2 is expected to take 6-7 months before we will be able to ship to pre-order customers as we are financing production ourselves - Series 2 will be produced in limited numbers.
June 21, 2007 Spec4ce Forest Production Prototype http://www.hyperstealth.com/spec4ce/prototype/index.html
HyperStealth will continue to take pre-orders at this time. The orders will be shipped on a first to pre-order basis as there will be limited quantities produced on this second series run.
All prices are in Canadian funds (You can convert to your own currency when ordering). We add an additional 15% for shipping.
As of October 10, 2007 $1.00 CAD (Canadian) = 1.01893 USD (1 USD = 0.981422 CAD) see www.xe.com for up to date conversions of most major currencies.
Canadian Residents will be charged 6% GST (Goods and Services Tax)
You are responsible for any duties imposed on the shipment to your country.
SPEC4CE Color Schemes available to order: Colors from the production run may be different than the evaluation colors shown below:
As of October 15, 2007 Series 2 is expected to take 6-12 months before we will be able to ship to pre-order customers. Series 2 will be produced in limited numbers.
Series 2 Sold Out as of April 3, 2009
Order Jacket $70.00 Canadian

Order Pants $70.00 Canadian

Order Boonie Hat $20.00 Canadian


Order Patrol Cap $20.00 Canadian


Order Mitch style Helmet Cover $20.00 Canadian

Uniform Size Chart
Jacket
Pants
SIZES
Chest
Measuring
Waist
Measuring
Inseam
Length
Small/Regular
33 - 37"
27 - 31"
29˝ - 32˝"
Small/Long
33 - 37"
27 - 31"
32˝ - 35˝"
Medium/Regular
37 - 41"
31 - 35"
29˝ - 32˝"
Medium/Long
37 - 41"
31 - 35"
32˝ - 35˝"
Large/Regular
41 - 45"
35 - 39"
29˝ - 32˝"
Large/Long
41 - 45"
35 - 39"
32˝ - 35˝"
X Large/Regular
45 - 49"
39 - 43"
29˝ - 32˝"
X Large/Long
45 - 49"
39 - 43"
32˝ - 35˝"
Finding your hat size

Place a tape measure around your head. Your measurement in inches or centimeters is converted into the proper hat size.

Inches
CM
Hat Size
21 1/8"
54
6 3/4
22"
56
7
22 3/4"
58
7 1/4
23 1/2"
60
7 1/2
24 3/8"
62
7 3/4
SPEC4CE Uniform Specs: Subject to Change
100% cotton
Buttoned front closure
Narrow Brim Bonnie hat
Mandarin collar that can be worn up or down
Tilted chest pockets with Velcro closure
Elbow pouch for internal elbow pad inserts, Internal access
Knee pouch for internal knee pad inserts, Internal access
Large tilted shoulder pockets with Buttons
Three-slot pen pocket on bottom of sleeve
Large wrist cuff for optional rolling of sleeves
Concealed Button cuff closure
8 pocket pants with adjustable waist
Large combat belt loops
Forward tilted cargo pockets with Buttons
Buttoned back pockets
Bellowed calf storage pocket on left and right leg with Velcro
Draw String leg cuff
New ECU (Elite Combat Uniform) design (as used for Series 1)
The SPEC4CE uniform design is also improved in the form of the ECU Elite Combat Uniform, based on recommendations of former Green Beret's, a Special Forces Instructor and a Navy SEAL. There are no zippers on the MCU-V1, the buttons are concealed. Velcro is only used in the mandarin collar, the chest pockets and the calf pocket, all other pockets use concealed buttons. There is a large pleated back, If you raise your arms or move them far forward in firing position the pleated back expands and your sleeves remain in place. Elbow and Knee pad insert points are internal to stop sand and dirt from making their way past outside closures as used on the ACU (Army Combat Uniform). The removable pads inserted at the factory are made of a conformable foam which takes the loose shape of the users knee and elbow and are thin enough to be used in conjunction with hard shell pads. The Boonie cap is narrow brim to increase peripheral vision which can be impaired by the drooping effect of the large brim boonies. The Calf pockets are larger and expandable to allow for the hand to reach in unimpeded. Velcro was used on this pocket due to the increased movement of this region of the pocket.
For more Camouflage news go to the HyperStealth® Home Page