Don Wilson is wearing the SpecAm Desert Viper in "The Last Sentinel"
Keith David wearing HyperStealth SpecAm Urban in "The Last Sentinel"
Actual equipment in HyperStealth patterns
CGI game characters and equipment in HyperStealth patterns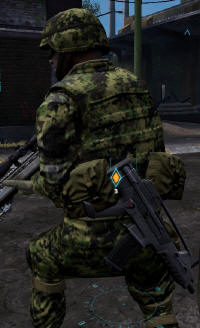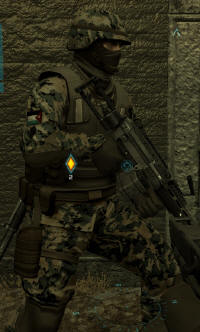 (Vancouver, B.C., June 29, 2010) HyperStealth Biotechnology Corp. today announced a new division called HyperStealth Studios which will focus on Camouflage Pattern Supply, Props, Costumes, Design and Licensing for Movies, T.V. and Video Games.
Many productions whether they be actual people or virtual CGI characters require a modern or futuristic look and feel. Using what's available in the commercial market can limit the imagination of the viewer or gamer. With the entertainment industry looking for more cutting edge designs to immerse the audience into their story, HyperStealth continues to get requests for patterns, uniforms and props for use in large and small production Movies, T.V. and Video Games.
Over the past three years HyperStealth was requested to supply new patterns for the major motion pictures; "G.I. Joe", "Transformers; Revenge of the Fallen", the remake of Red Dawn (2010) and the movie "Inception" to be released Summer 2010. Due to the limited time constraints involved in preproduction to actually filming these movies (6-8 weeks), HyperStealth was unable to supply the requested patterns for all these films. To schedule a short run with textile factories for printing and then schedule assembly at a different factory can take many months and typical minimum production run from these factories is 2,500 uniforms. Shipping the completed product can also take weeks.
In March 2010 and June of 2010 HyperStealth acquired a few large textile printing machines to allow them to produce their patterns on large textiles and other materials in-house at their newly formed HyperStealth Studios. The primary function of this machinery with HyperStealth is to produce and supply government and military field trial uniforms and also for short-medium production runs for Special Forces so the quality that HyperStealth Studios can produce for Film and T.V. is now equal to that of Military/Government production.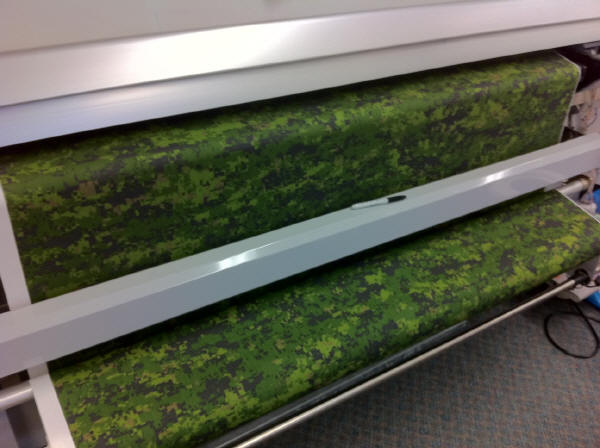 What used to take HyperStealth months can now be completed in days and there are no minimum yardage requirements, if a Movie or T.V. production wants one or 50 uniforms - that can now be accomplished.
The process is even quicker for CGI (Computer-Generated Imagery) characters or vehicles as the design team is often involved in preparing CGI simulations for Government Defense testing, research and development.
Contact info@hyperstealth.com for quotes (We will only supply to qualified entertainment industry sources; we do not supply the public or commercial groups at this time).
Why is HyperStealth their first choice?
More than one million military uniforms and over 3,000 vehicles and Supersonic Fighter Jets use a HyperStealth camouflage pattern. The HyperStealth design team has developed over 8,000 patterns which are all under international copyright. HyperStealth have worked with or been asked to supply patterns for 31 different countries; Government, Military or Police.
Guy Cramer, President/CEO of HyperStealth was commissioned by King Abdullah II of Jordan in 2003 to develop a new digital pattern for their entire Armed Forces which would exceed the current U.S. patterns. HyperStealth is now recognized for producing the top scientific based camouflage patterns in the world.
HyperStealth began supplying movies with uniforms in 2005 beginning with "The Last Sentinel" staring Don Wilson and Katee Sackhoff who played Starbuck on the recent T.V, series; Battlestar Galactica. Keith David is also featured at the start of the movie wearing the HyperStealth SpecAm Urban uniform.
Zombie Studios approached HyperStealth in 2005 to supply the two patterns featured in the video game "CQC - Close Quarters Conflict".
Michael Bay, Executive Producer for Transformers and Transformers: Revenge of the Fallen had requested a new HyperStealth camouflage pattern for the entire NEST team in the second movie, at that time HyperStealth was unable to produce the material within the time provided prior to filming and had to turn down the request four separate times, however, HyperStealth was asked to advise DreamWorks Art Department for other items within the movie Transformers: Revenge of the Fallen.
Guy Cramer, President/CEO of HyperStealth has corresponded with Weta Digital who have provided the visual effects on Lord of the Rings, King Kong, District 9, Avatar...
In 2001 Guy Cramer was asked to meet with actor Michael York (star of Logan's Run) and his wife Patricia, who's son Rick McCallum is the producer of the Star Wars Movies. HyperStealth Hats with Cramer's patented Passive Negative Ion Generators were requested by Patrica were sent to the crew members (including Rick McCallum and George Lucas) for Star Wars: Episode II, Attack of the Clones. Further hats were requested by Patricia and sent to Producer/Director Steven Spielberg and to Astronaut Buzz Aldrin.
Back in the late 1980's Cramer had contemplated a career in film and after taking a course in Cinematography he was considering USC film school, instead he decided to pursue scientific research, Guy was the research assistant to his Grandfather Donald L. Hings, P.Eng, M.B.E., C.M. (Geophysicist), the developer and pioneer of the first true Walkie-Talkie in 1937 who later refined the device into the "Radio Frequency System" for the Canadian Military 1942; this earned him the prestigious Member of British Empire Award, and The Order of Canada and a Laureate in Canada's Telecommunications Hall of Fame in 2006.
Among Hings 55 patents (23 patents in the field of electronics), included some of the more notable;
Electronic Musical Instrument (Electronic Piano) U.S. Patent #2,492,919
Molded Circuit Boards U.S. Patent #2,703,377
Linear Rolling Motor U.S. Patent #3,555,380 (bullet trains propulsion)
Oil finding device U.S. Patent # 4,458,205.
Hings also invented the technology used for the DEW Line (Distant Early Warning Line) operated by NORAD (North American Aerospace Defense Command) for over 30 years.
Cramer has followed in his Grandfather's footsteps pioneering passive negative ion generators, fractal camouflage and a number of new technologies to allow for rapid and inexpensive digital pattern application to most surfaces. These advances while initially developed for military use have obvious application in the entertainment industry.
---


HyperStealth developed the Kingdom of Jordan's advanced KA2™ digital pattern, Chile's Fractical™ Pattern, UAE Destex™ Pattern, Slovakian Digital Thunder™ and Cloudcam™ aircraft patterns, India's O8™ pattern, Afghanistan National Army; Spec4ce Afghan Forest Pattern, Special Forces SOPAT™ and Camopat™ patterns, W.L. Gore & Associates (Gore-Tex®) Optifade™ Open Country, Optifade Big Game Forest and Optifade European Forest patterns, 3M® Consealment™ Camouflage printed vinyl and numerous other countries camouflage patterns still within trials.
HyperStealth is referenced in the NATO Programme for Security through Science.
Contact info@hyperstealth.com for quotes (We will only supply to qualified entertainment industry sources; we do not supply the public or commercial groups at this time)..